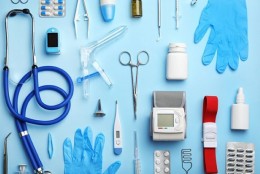 Founded in 1923, this regional medical supplies company provides medical and rehabilitation equipment for doctor's offices and accessibility equipment and fixtures such as wheelchairs, ramps, stair lifts, and accessible vans to residential customers. The Company has two locations that serve customers in Michigan. The Company has established a solid reputation for offering top-of-the-line products, high-quality services, and outstanding customer service.
The Company supplies medical supplies such as gloves, table paper, and exam tables to physicians and rehabilitation equipment such as catheters, walkers, and wheelchairs to individual customers. The Company also offers accessible construction services, selling and installing porch lifts, stair lifts, and ramps, and offering deck and bathroom remodeling and home additions. Additionally, the Company. rents, and repairs accessible vans.
The owner plays a semi-passive role in the Company's management by only working approximately 20 hours per week. Day-to-day operations are handled by the Company's managers who intend to stay with the Business post-transaction.
The Business operates out of two facilities totaling 36,288 square feet. The facilities are owned through a related entity, and the owner is flexible as to the sale or lease of the real estate to new ownership.